Senior Care : If you, your spouse or your parent are unable to travel to a clinic or want the convenience of having Physiotherapy in the comfort of your own home, retirement community or even hospital room we will come to you!
What services are included for senior care at home?
Besides companionship, most in-home caregivers for seniors can help with their daily activities, such as getting around the house safely, meal prep, light housekeeping, and medication reminders, as well as taking them for walks and driving them to medical appointments or errands. There are also caregivers who can assist with bathing, dressing, feeding, overnight watch, and dementia care.
Physiotherapy For Seniors
Physiotherapy is a health care profession directed at assessing, evaluating, restoring and maintaining physical function. As we age our lifestyles tend to become more sedentary causing; postural changes , weakness of our muscles and a decrease in our mobility. Our team of Physiotherapists, Kinesologists and athletic therapists will help restore your range of motion, strengthen your muscles and maintain an active lifestyle through  passive therapy and supervised prescriptive exercises.
What Can Physiotherapy Help?
Our Physiotherapists have experience in pre and post care for: knee replacement surgery, hip replacement surgery, recovery from extended hospital stays, pneumonia and significant muscle atrophy.
Getting older is a part of life and is a natural physiological process. One system of the body, which is significantly affected by aging, is the musculo-skeletal system. As we get older, the elasticity present within our body deteriorates and thus increases the chance of injuring the soft tissues and bony structures of the body. It is common for people 55 years and older to suffer the effects of:  osteoarthritis, arthritis and joint swelling, Lower back pain and stiffness, early morning stiffness and restricted mobility.
Osteopathy is a gentle, non-invasive form of physical treatment that is particularly suited to dealing with the stresses and strains associated with getting older. It can help seniors to regain lost mobility, flexibility, reduce pain caused by arthritis and help those recovering from Hip and knee replacement surgery.Senior Care
As a passive alternative to physiotherapy and massage therapy, acupuncture can benefit seniors in many ways. If you are unable to lie prone or issues with limited mobility prevent you from performing your prescriptive exercises or even receiving massage therapy, Acupuncture can help you! Acupuncture is a relatively pain free way to reduce inflammation associated with arthritis or chronic pain. Its a great way to address restricted mobility in the spine and improve functional range of motion. Acupuncture can help manage pain related to osteoporosis and relieve constipation caused by strong medications.Senior Care
"I have been dealing with In your home therapy now for a couple of months for my elderly mother who is 86 years old and has dementia. They have been fantastic. Very accommodating.  The physiotherapist who works with my Mom is amazing.  Very patient, works with my mom very well, even makes my mom laugh on every visit.  I highly recommend the services of In your home therapy."
Sincerely,
– Lesley in Scarborough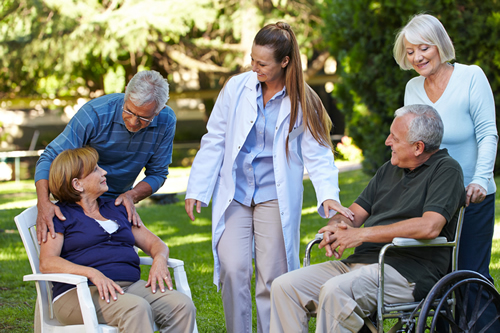 Massage Therapy For Seniors
Massage therapy for seniors or Geriatric massage can help to reduce aches and pains one accumulates as they grow older. As we age our posture changes, years of sitting forward and over-work can cause muscle imbalance and weakness that manifests itself in aches and pains of your joints and spine. Geriatric massage can help improve circulation, decrease muscle and joint stiffness,  reduce inflammation and arthritis pain.Senior Care
Dental Cleaning For Seniors
If you or a loved one is physically unable to visit your local dental office, An Ontario self initiated registered Dental Hygienist will come to your home with: a portable client chair, stool, an overhead light, portable unit that includes a compressor and suction unit, scalers, ultrasonic scaler, hand piece for polishing and dental insurance forms.
Gain the latest professional referral, post-acute sales strategies that include data-oriented, partner-focused marketing and sales
Hyper-local targeting for high-value lead generation
Communicating the right data mix for every partner
Digital body language—using it to turbo-charge sales
Gaining high-level access to post-acute bundle and ACO partners
Consumer and patient predictability as a new game changer in your sales and marketing efforts
Learn the latest marketing strategies in intensive, action-packed master classes
Integrated marketing: Leverage it before prospects pick up the phone
How strategic communication can drive your payor strategy
Mission-critical reputation management tactics
Customer relationship management collaboration
In-network and partner sales strategies